In Voter Gravity's ongoing quest to provide the best campaign management and voter contact platform in the market, we are very excited to announce that we now offer SMS and MMS messaging from within our system.
Texting is a particularly powerful medium because it has one of the highest open rates for any form of communication. Your message is delivered to voters in a medium they regularly use: a messaging app on their phone.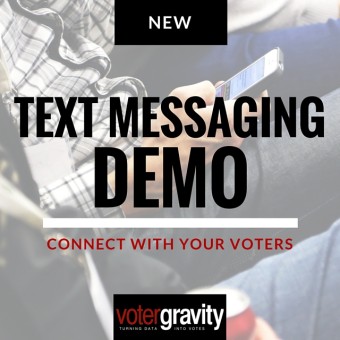 Just as they do with all other aspects of the system, clients will be able to select a universe of targeted voters based on whatever criteria are most important to their campaign. Check out our video detailing exactly how this works. Once the list has been created, they can send the following types of messages to those individuals:
Standard SMS text message with up to 140 characters

SMS message with a link (which we automatically shorten)

MMS message with text, link or pictures
Now you will be able to quickly share news, infographics, and pictures, request donations, or solicit surveys of anyone who has a mobile phone.
This new texting integration will be even more powerful in coordination with our recent integrations with MailChimp, SurveyMonkey, EventBrite and Anedot.
Cost for this service is $.03/per SMS and $.05/per MMS. No additional monthly plans, minimums or pre-purchases necessary.
It's a mobile world. Make sure your campaign tools are keeping up with the population.
Sign up for a web demo of our texting service available in Voter Gravity here. Are you a current client? Check out the video below detailing how you can take advantage of this now!