New Feature: Near Me helps activists connect in their community
Another week, another new Voter Gravity feature.
Imagine a volunteer named Nancy calls on Wednesday morning. Nancy is at home and wants to help the campaign starting immediately. In fact, she wants to go knock on doors. In a traditional campaign, she would have to drive to a campaign headquarters, sign up, get a walk list, and then go to a strange neighborhood and knock on the doors of people she likely does not know.
With the launch of Mobile Near Me, Nancy can be out knocking on doors in her neighborhood within minutes. Here's how it works:
Once Nancy has been added to a campaign's account as a volunteer, she can log in to the Voter Gravity mobile app via her smartphone.
After logging in, Nancy can select "Near Me" and Voter Gravity will dynamically create a list of targeted voters close to her location. She's out the door and talking with neighbors, where she is likely to have relationships with people who will trust her — and be more likely to support her candidate.
But who is a targeted voter? That's easy, campaigns just select a set of filtered criteria via the portal, just as they would to create a targeted walk list or phone bank.
Request a demo today to check out this new feature and the other innovative voter contact tools available on the Voter Gravity platform.
INBOUND13, Seth Godin, Nate Silver, and How to Stand Out in an "Attention Economy"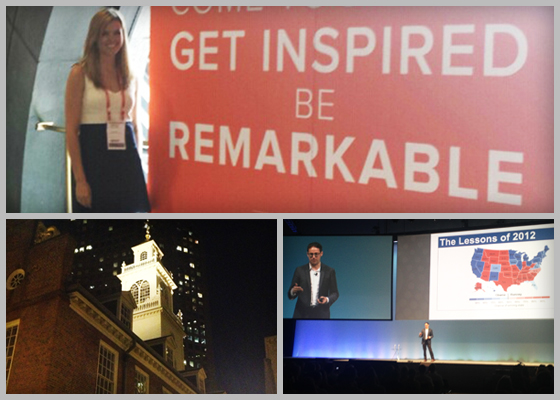 Voter Gravity staff spent a week in August in Boston, connecting with innovators from across the country while attending INBOUND 2013, the world's largest inbound marketing conference. Interacting with keynotes like social marketer Seth Godin and longtime-leading statistician Nate Silver, we came away with an even stronger sense of why mastering advancing technology is a must for modern political campaigns.
We live in an "attention economy" — Americans tune out paid advertising (including TV ads and intrusive robocalls). Buying attention doesn't work.
So what does work? Seth Godin defined this digital revolution: "We are leaving the industrial economy and entering the connection economy." Data reveals that 92 percent of American consumers trust recommendations from family & friends when making a decision. It's the personal connection.
One of our must-see keynotes was Nate Silver who focused on prediction (of course!) and bringing meaning from a universe of noisy data. Big data becomes useful when we think in terms of actionable knowledge and statistics. Don't be afraid to test, measure, try and err to determine how data will enable you to establish meaningful connections with your target audience.
Stay tuned for more takeaways on how to use technology to effectively reach your voters over the next few weeks!