All the talking heads were talking about Carly Fiorina's debate performance, but were the voters of New Hampshire impressed as well?
Yes, they were.
In Voter Gravity's latest presidential flash poll through touchtone phone responses, we surveyed 2,839 New Hampshire Republican Primary Voters the day after the CNN Debate, and they put Carly Fiorina in the top spot at 22%.
Consistent with our usual targets for polling, everyone in the poll had voted in the last 3 Republican Primary and General Elections in addition to the 2008 and 2012 Presidential Primary.
The poll shook out like this: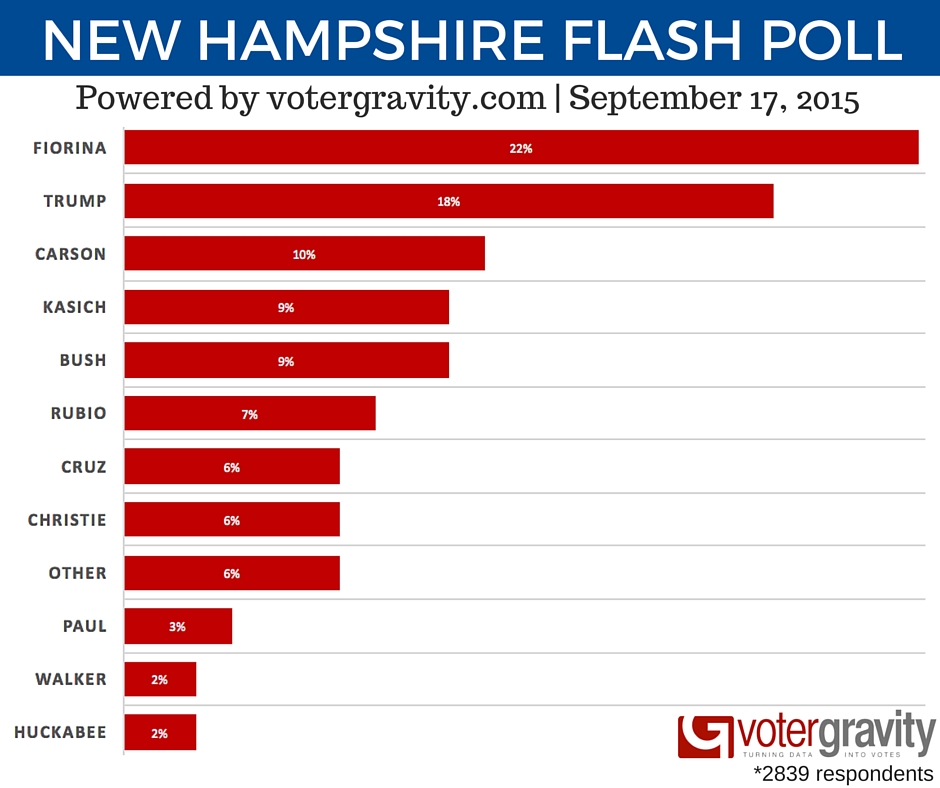 Carly Fiorina's rise in the polls began after the first debate, where Carson and Trump held the top spots after multiple polls. In these post debate NH results, it appears Trump lost most of his ground to Fiorina while Carson remained fairly close to his pre-debate levels.
With the next five candidates separated by just 3% (a range of support from 6% to 9%), the middle of the field appears very crowded with no one making great strides in the debate.
Paul, Walker and Huckabee round out the bottom with none of them earning more than 3% support. While Huckabee never had tremendous support in New Hampshire, unquestionably both Paul and Walker have seen better days in the "Live Free or Die" state.
So, what does it all mean? The same as it did after the Cleveland debate – not much. It's still too early to reach any conclusion other than Republican Primary Voters are still impressionable, and debates are opportunities for candidates with less name ID to make an impression.
If you'd like to test voters in your state on any issue, you can sign up for a quick web demo of our system here.